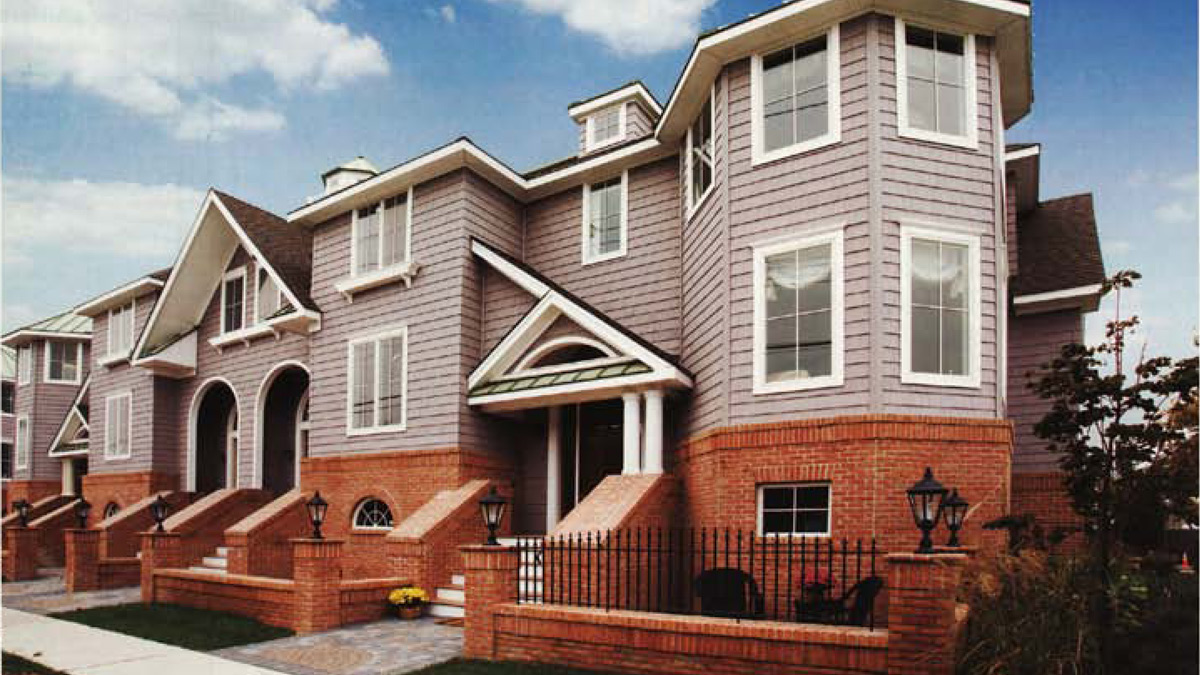 The 'Friendship Connection'
Builder/Architect Magazine – January 2008
Olde Seaport LLC
Childers Sotheby's International Realty and Mastercraft Iron, Inc.
The 'Friendship Connection'
By Augie Bartolo
What may appear to be as different as apples and oranges in building industry circles is in reality the very successful partnership of Lee Childers and Pete Stagaard. This affable and energetic duo teams up to establish exquisite low-density and custom-home communities in locations to which the most elite buyers are drawn. Lee is the founder and President of Childers Sotheby's International Realty. Pete presides over Mastercraft Iron, Inc.
Good friends for over 25 years, Lee and Pete have created outstanding Jersey Shore projects. The Olde Seaport project is the culmination of their creativity and enthusiasm for not only awakening the immediate building site with elegant housing, but also for generating acceptance of the project from the community at large.
The Olde Seaport Luxury Townhomes project demonstrates the team's resourcefulness to site-compatible architecture, quality craftsmanship and streetscape enhancement. Located in Point Pleasant Beach, within walking distance of the ocean and Manasquan Inlet, the project highlights Lee's innate deftness for land acquisition and Pete's knowledge of Jersey Shore-area construction possibilities and limitations. Architectural services were provided by John Amelchenko, a principal of Aquatecture Associates, Inc., a locally based company with a vast portfolio of waterfront projects. The Olde Seaport is being marketed by Lee's firm. Familiarity with each other's traits, as well as skills, has fostered a rare exuberance between the two professionals for working as a determined alliance. "[My wife,] Connie and I and Wendy and Lee have been hanging out together for as long as I can remember," Pete said. "We all have a lot of common interests, we all love to have fun, so why not do business together?"
Lee concurred, but with a quip: "I was always told that the best way to lose a friend was to go into business with him. Luckily for us, that never happened. Actually, we're better friends than ever since we began doing projects. Go figure."
Nearing extinction, inventory of buildable land so close to the water continues to affect the perception of existing residents and municipalities toward builders. Creating a waterside community in an already densely inhabited area could raise the hackles of everyone from the borough's mailroom clerk to homeowners old and new at planning board gatherings. Lee and Pete effectively challenged – if not completely defused – this prevailing anti-builder sentiment by presenting what would evolve into a thoroughly admired site plan and resoundingly acclaimed home designs.
"To say the least, this project was a little offbeat from the start," recalled Lee, who began his career in real estate some 29 years ago at the Jersey Shore. "The building on the site was an old, closed down bar. The location was great so, of course, I was interested. The property owners who sold it to me already had approval from the planning board for five single-family homes. But because of the location and character of the neighborhood, I thought that 'Seaport' style attached row homes were the way to go. Fortunately, the mayor agreed."
Still, the team had to rehash the entire approval process. Upon presentation of their site plan and product renderings, however, "The borough and everyone at the meeting loved it," Lee said.
"It was unbelievably well received," added Pete, a 30+ year veteran of his craft.
The eight-unit project offers three design choices, with up to 3,200 square feet of total area and water views from some elevations. From there, the similarity with other nautically inspired projects comes to a screeching halt, as Lee explained. "We wanted the homes to offer more than just the proportions of single-family designs. We wanted them to shout 'classic elegance.' So, we incorporated formal parlors on the main levels to get away from the sterile open floor plan of most shore homes. The kitchen does adjoin a great room, but that is more of a functional component to accommodate the family and visitors of the homeowner."
The upper levels are equally traditional – and unusual for shore-built housing – with a study off of the secondary bedroom and a large sitting area adjoined to the master suite. "There's a wow factor on every level of the home that will distinguish each unit as a very unique and inventively designed space," Pete said. "To friends and family, that is a nice reflection on the homeowner's sense of style, sophistication and appreciation of tradition."
Other amenities run from private elevators to custom granite kitchen countertops and high-end Bosch appliances. "These are certainly more common in 'landlocked' developments, but they are important functional necessities for our kind of buyers," said Lee.
Designed in two, four-unit banks, the townhomes boast marine-defiant vinyl shakes that replicate their classic cedar ancestors, vertically exaggerated windows (as in Victorian, and lots of them) and a crow's nest with a lighthouse-style base crowning the center of each bank. Every unit enjoys two levels of covered balconies recessed into the façade.
All that being written, Lee and Pete saved two of the project's best features for last. "Among the most important selling features to the public, the town and, ultimately, the customer, is the front courtyard look. This was made possible only by placing the two-car garage spaces in the rear of the buildings," Lee said. "It completely eliminates the intrusion of a car or the kids' toys on the face of the little 'neighborhood' that Olde Seaport will become."
Additionally, as Pete mentioned, the size of the garage space is more than generous. "You can open all four doors of two cars in comfort. You can store all kinds of items that don't belong in the house, like surfboards, kayaks, beach toys and chairs."
A staple of Jersey Shore real estate marketing, Childers Sotheby's International Realty brings home buyers and sellers together throughout the Shore area. The company employees 50 licensed real estate agents and support staff at five strategically located offices in Point Pleasant Beach, Normandy Beach, Lavallette, Bay Head and Seaside Park. A new flagship office is under construction at a mixed-use project the team is developing on Rt. 35 in Point Pleasant Beach. While the office will face the highway, five luxury townhomes and a swimming pool will be built on its opposite side.
Childers Sotheby's International Realty is known for providing the utmost in personalized customer services, as well as employing the most technologically advanced sales and marketing techniques. "In today's changing real estate industry, we see a lot of firms come and go," Lee said. "But as we have learned, our dedication, professional knowledge and strong commitment to customer service stand up in even the most challenging times."
Mastercraft Iron, Inc. is a midsized fabricator of structural steel and miscellaneous iron products. The firm employs four project managers and 15 trades in its shop, providing welding and fabrication services to builders and developers. The company has completed the structural steel requirements on numerous schools, office buildings, libraries, parking garages and some of the largest homes in the state of New Jersey. Mastercraft is currently performing rehab work at Convention Hall in Asbury Park as part of the city's ongoing redevelopment.
Some of the company's more interesting finished projects entail the new handrails at Rutgers Stadium, some prison work and the restoration of historic Barnegat Lighthouse on Long Beach Island. "The lighthouse project was particularly challenging, if not for the winds, for the more than 170-foot heights we had to deal with," said Pete.
As a team, Lee and Pete are also responsible for two upscale single-family projects located just west of Atlantic City, in Galloway Township, Leeds Point Estates is a high-end, 24-home subdivision at which the team built about half of the custom homes and facilitated road and utility infrastructure. Park Place is a 24-home enclave of custom residences sited adjacent to the Galloway National Golf Club.
Childers Sotheby's International Realty is headquartered at 554 Rt. 35 in Normandy Beach. For more information, call (732) 793-5647, visit www.ChildersSothebysRealty.com or e-mail [email protected]
Mastercraft Iron, Inc. is based at 1111 10th Ave. in Neptune. Call (732) 988-3113 or e-mail [email protected] for more information.