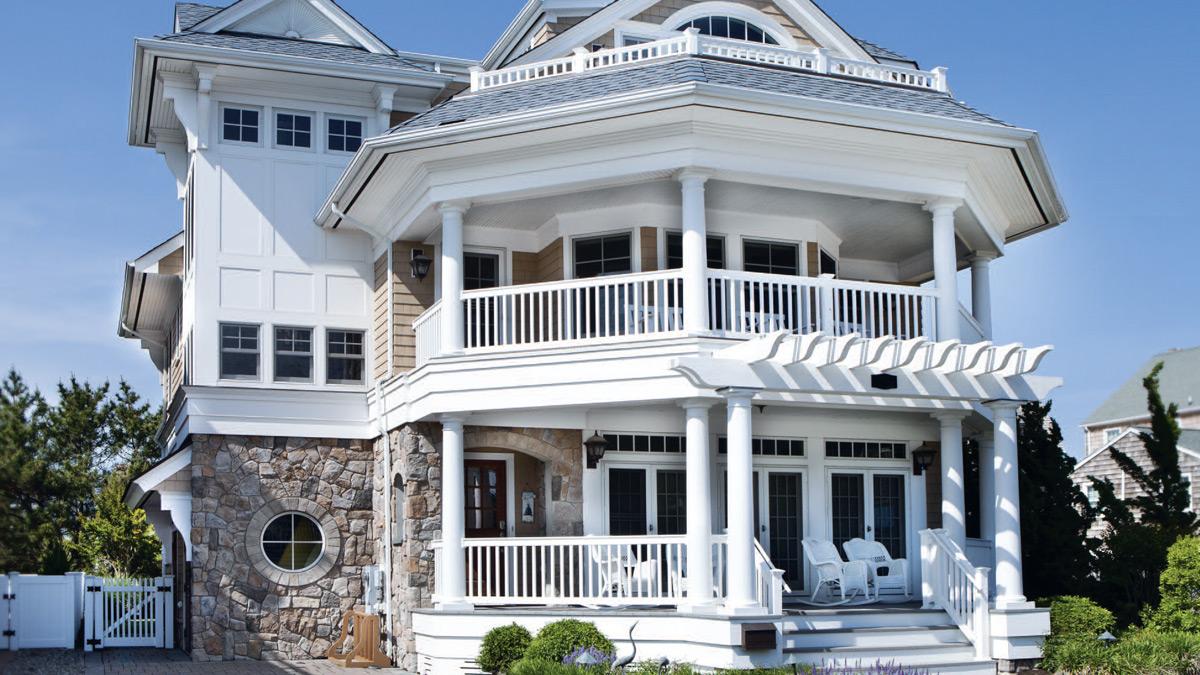 Weathering the Storm
Design NJ April/May 2016 issue
A builder and architect create a shore home with the latest weather-resistant features
Weathering the Storm
People have been more mindful for some time – even before Hurricane Sandy – of the need to build weather-resistant homes, says Robert Monetti of Brielle-based Monetti Custom Homes. "Given the investment, their beach home is a place where they want to relax and not find major maintenance issues."
Monetti says he's not referring to the usual wear and tear on a beach home – those things are "a known and accepted trade-off for living at the beach." He's talking about major issues such as leaking or metal flashings that have come off of the home.
Shore homes are at risk for those and other sorts of serious damage from hurricane-force winds, flood waters, wind-driven rain and high humidity levels, says architect John C. Amelchenko, a member of the American Institute of Architects, LEED AP and owner of Aquatecture Associates in Point Pleasant Beach.
NO GUARANTEE
Architects and builders can't guarantee a shore home's safety in these kinds of conditions – "Mother Nature makes that call." Amelchenko says – but they can greatly minimize the risks through their design, building methods and materials.
The effort to do that has led to a return to "time-tested" methods of building, not the shortcuts of the 1950s and 1960s, but the older, purist ways of building that are more expensive," Monetti says.
A case in point is the 3,300-square-foot beach home in Seaside Park that Amelchenko designed and Monetti built.
Here's a look at some of their building methods and materials.
BUILDING METHODS
Building codes dictate, among other things, how high above ground level a home's "finished floor," in other words the first living floor, needs to be. Amelchenko says, "We've experienced first-hand that the higher the better, so we want to lift the finished floor well above the base flood elevation – a standard set by the Federal Emergency Management Agency and the U.S. Army Corp of Engineers," he says. There are two basic flood zones, Amelchenko adds, Zone A and Zone B, a stricter standard that applies to homes along the beach.
In addition to elevating the structure, driven wood pilings are used along with openings in the foundation to withstand floodwaters.
Another shore construction method involves the use of shear walls, which give the home increased structural support against heavy winds, specifically hurricane winds. There are a few ways the walls are reinforced, including the use of extra plywood or steel and certain nailing patterns, Amelchenko says. "It depends on the shape of the home, but typically most [shear walls] are used on the exterior," he says.
The use of rain screens is aimed at dealing with high humidity levels at the shore. A rain screen is an exterior wall detail where the siding (the wall "cladding") stands off from the moisture-resistant surface of an air barrier applied to the sheathing (sheeting) to allow drainage and evaporation. The rain screen is the siding itself, but the term rainscreen implies a system of building.
MATERIALS
A particularly important material in shore construction is AZEK. Used in place of wood, AZEK is a cellular PVC material that is impervious to water penetration, won't rot or crack and, for the most part, doesn't require painting, Amelchenko says. It also can be cut and shaped like wood. The trim work on the Seaside Park house is entirely AZEK.
"Many purists, including myself, insist on a wood exterior," Monetti says. For the Seaside Park home, and countless other shore homes, cedar shingles were used on the exterior along with AZEK trim work.
Amelchenko calls cedar shingles "a fabulous water-resistant material" that at the turn-of-the-century were considered a "throw-away material," used for lesser structures such as bungalows and shanties. "They absorb moisture so when the humidity rises, [the shingles] swell, expand and tighten up all those joints that would let water in," he adds. "You can buy them in their natural state – red or white cedar – they acquire a great patina or can be prestained at the factory."
Another material that's made a comeback is corrosion-resistant copper. Up to 20 years ago, exposed metal flashings tended to be aluminum, Monetti says. "So it wasn't uncommon in 1995 to see an ocean block home with vinyl-coated aluminum wrapped facia and trim. We felt it was a good finish and people didn't want to spend for copper."
The aluminum flashes, however, provided vulnerable to decay and now "you'd be hard pressed to find any set of blueprints that specify anything other than copper today," Monetti says.
For the Record
"A Coastal Calling" on pages 68-73 of the October/November issue omitted the telephone number of the designer, Kara Bossert, owner of the Design in Time LLC in Lebanon. The number is 908-236-7171.
Captions were inadvertently switched for two photos in "A Bulb's Live," an article on fall-planted bulbs on page 111 of the October/November issue. The middle photo on the right side of the page shows 'La Reve,' an Oriental lily with a starburst yellow center. Below it is a photo of 'Dizzy,' an Oriental lily pictured with dahlias.
Caitlin Rutkay of C.R. Interior Designs in Short Hills designed the "nap" room in the Twin Maples Centennial Show House in Summit. "A New Century of Service," an article about the show house in the October/November 2008 issue, spelled the designer's first name incorrectly. Reach her at 973-376-2929 or visit www.caitlinrutkay.com. The same article said Jonathan Hress and another person designed the bride's bathroom. After the article went to press, however, the other designer pulled out and Hress designed the room on his own.
The architect for the three-generation home (above) featured in "Under One Roof," page 58, October/November 2008, was John Amelchenko of John C. Amelchenko, AIA, Aquatecture Associates Inc., 421 River Avenue, Point Pleasant Beach; 732-295-3692, www.aquatecture.com.